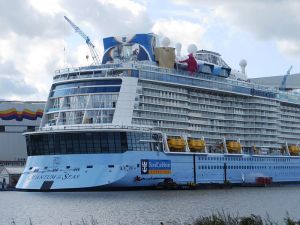 Port Canaveral is one step closer to being named "the world's busiest cruise port" by opening the new Cruise Terminal 1 and adjacent parking garage only a day ago.
Johnson, vice president of Ivey's Construction Co., builder of the new Cruise Terminal 1 and parking garage said that it was an almost-impossible schedule to build the two-story, nearly 190,000 square-foot terminal building and the four-story, 1,000-vehicle parking garage in only 10 months. In an attempt to meet the cruise lines demand, the crews worked round-the-clock, seven days a week for the last several months of the project construction works. Johnson added that a project like that one was not "for the faint of heart".
Ivey's Construction, a Merritt Island-based company, has been in the business for about 40 years and has completed a number of projects for Port Canaveral, and the last one, the Terminal 1, is the company's largest ever project.
Strategically located on the south side of Port Canaveral east of the Cove, the $100 million terminal will offer the passengers and crew a variety of dining and entertainment options within walking distance for the first time in the port's 60-year history.
Royal Caribbean's Explorer of the Seas was the first ship to arrive at Port Canaveral's new Cruise Terminal 1, followed by Freedom of the Seas December 28 and Enchantment of the Seas December 29. Quantum of the Seas is expected to make regular port of call stops here, starting in January, as part of its itinerary to Bahamas.
Port Canaveral aims to take its cruise ship business to a new level. The terminal is designed to accommodate the largest cruise ships in the world that are sailing at the present time, such as Oasis or Quantum level Royal Caribbean ships with an average passenger capacity of 4,000 to 5,500.
The port also plans to renovate three of the existing terminals so they accommodate "mega-ships" that can carry 7,500 passengers. Port Canaveral is expected to surpass Miami as the world's busiest cruise port in five years.