Port Canaveral is planning to add charging stations for electric vehicles at the parking lot near the Exploration Tower area. The project will be developed in partnership between the port and Nissan.
Nissan which makes the Leaf electric cars will pick up some of the costs. Nissan Motor Company Ltd will spend about $31,000 for the cost of the equipment and Port Canaveral will pay another $18,376 for the engineering, design and installation work.
Port Canaveral commissioners voted 4 to 1 to install a fast charging station for electric vehicles in the parking lot near the Exploration Tower in the port's Cove area.
A fast-charge station can provide an electric car with a complete charge in significantly less than 30 minutes, according to Carol Noble, the port's director of environmental plans and programs.
Port Canaveral also intends to install electric vehicle slow charging stations in the Disney Cruise Line long-term parking and it was suggested by Disney officials as a result of requests of Disney customers. That project will be worth less than $ 10,000 for engineering, design and equipment, Carol Noble noted.
Noble said that the aim of the project is to accommodate electric-vehicles owners who might fear running out of power before reaching a charging station, as well as offer them a hassle-free place to recharge.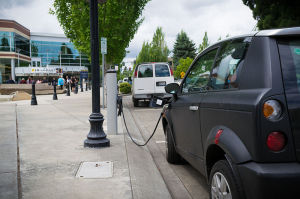 A vote was taken to further expand the port's commitment to electric vehicles. The port's commissioners decided against adding electric vehicle charging stations at the other cruise terminal parking garages. They also voted against buying an electric vehicle for the port's fleet.