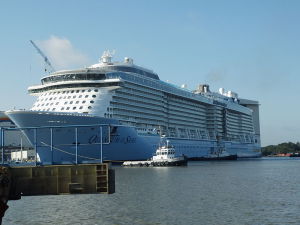 Royal Caribbean's Oasis of the Seas will leave Port Everglades and move to Port Canaveral for the winter 2016-2017 cruise season, officials from the cruise line announced Thursday. The enormous vessel, which cost $1.4 billion to build in 2007- 2008, will be the largest passenger ship ever to be based at Port Canaveral. The Oasis will offer alternate eastern and western seven-night Caribbean cruises from Port Canaveral.
Oasis-class ships like Oasis of the Seas and her sister Allure of the Seas are the world's largest cruise ships. More than 1,186 feet long and 252,282 tons in weight, the Oasis is nearly 50% larger than any other passenger ship at sea and home to an unprecedented selection of amenities. Consisting of 16 passenger decks, the huge vessel has a capacity of 5,400 passengers and a total capacity of 6,360. It carries a crew of 2,394.
Port Canaveral Chief Executive Officer John Walsh said getting a larger ship from Royal Caribbean International was anticipated after the Miami-based company agreed to partner with Port Canaveral on the construction of Terminal 1. The new cruise terminal is designed to accommodate the largest cruise ships in the world that are sailing at the present time, such as Oasis or Quantum-level Royal Caribbean ships with an average passenger capacity of 4,000 to 5,500.
In addition, the luxury cruise line brand announced that the Rhapsody of the Seas will take over three- and four- night Bahamas cruises from Enchantment of the Seas at Port Canaveral.
The port CEO John E. Walsh added he was "thrilled that Oasis and Rhapsody will be deployed from Port Canaveral". Attracting Oasis-class ships will take the cruise ship business in the area to a new level as tourists are expected to extend their stays onto land and visit the beaches and attractions in Orlando.