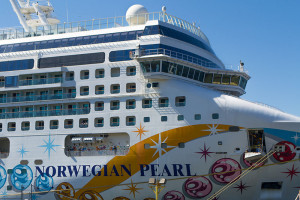 Authorities have officially suspended their search for a South Carolina woman who allegedly jumped into the sea off the Norwegian Pearl last week, in the midst of a Mad Decent Boat deck party.
According to officials, the U.S. Coast Guard called off its search for 24-year old Kaylyn Rose Sommer from Charleston. They say "the circumstances leading up to the woman's dive into the deep" are still unclear. However, some witnesses say that she intentionally jumped into the sea "while the deck party was in full steam."
In an emailed statement, Norwegian Cruise Line said crew members immediately initiated rescue measures. They deployed three rescue boats and notified the Coast Guard. A cutter and an airplane were sent to assist in the search which was made extremely difficult by rain and darkness.
The trip was a chartered cruise and the incident happened on the first day of the so-called Mad Decent Boat Party. The party is promoted on its website as a "crazy boat adventure", "four days of friends, fun, sun and non-stop music." The Mad Decent Boat Party is a popular EDM concert series that is being held onboard the Pearl as it cruises to Cozumel, Mexico.
The woman went overboard from a height of more than 80 feet above the water, while the cruise ship was under way at about 22 nautical miles from Cuba around 7 pm Thursday. This was the second such incident in less than a week, the first one was the fall by a Brazilian male passenger from a Royal Caribbean cruise off the Bahamas and it is also suspected that man jumped intentionally.
The 93,930-gross-ton Norwegian Pearl is one of the cruise lines Jewel Class ships. It started sailing in 2006 and is currently cruising from Miami, Seattle or Alaska depending on season.
The official statement says that both the ship and charter company are providing support to the family and guests. Authorities are still investigating the circumstances that led up to the woman jumping from the ship.