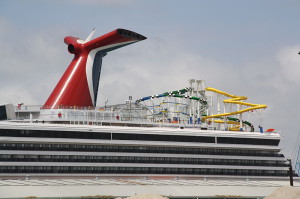 Carnival Cruise Lines brought a new ship to Port Canaveral last Thursday.  The 3,006-passenger Sunshine set sail on a special 11-day cruise from New Orleans on April 6 and then on a two-day Bahamas cruise from Port Canaveral on April 17. The Carnival Sunshine is replacing the Carnival Dream which, in its turn, is moving to New Orleans.
At first built as the Carnival Destiny in 1996, which in the late 1990s was the world's largest cruise ship over 100,000 tons , it underwent an unprecedented, $155 million makeover and was renamed the Sunshine in early 2013. The refurbishment of the Sunshine was done for 75 days in Italy and finished in May 2013 as part of the ambitious modernization program Fun Ship 2.0.
Now the ship hastropical-decor cabins including 96 spa cabins and boasts a great number of notable amenities: WaterWorks, a racing-themed water park featuring a 334-foot long water slide, the longest among all the ships of Carnival fleet; Carnival's first three-deck-top zones with a whirlpool, a cascading waterfall; an open-air sports complex which includes a ropes course, mini-golf course, a lighted court for basketball and volleyball and other sporting amenities. The guests will also enjoy a variety of dining options, movies under the stars at the Seaside Theater and a great fun at Punchliner Comedy Club.
Port Canaveral will be the ship's new year round homeport. The Sunshine will offer 5-day and 8-day voyages to a variety of destinations in the Caribbean and the Bahamas.
With the addition of the Sunshine last week and the Liberty on May 4 to the Carnival line-up at Port Canaveral, the company will have three ships to homeport there. The third one is the Sensation. All in all the three Carnival cruise ships at Port Canaveral will carry about 600,000 passengers a year on almost 250 cruises headed to14 tropical spots in the Caribbean.
Carnival Cruise Lines has the major market share of the four largest cruise lines at Port Canaveral, ahead of Disney, Royal Caribbean and Norwegian. According to the port's authorities the partnership is 'made in heaven' and Port Canaveral is expected to see 6 million cruise travelers per year by 2017 which means the passenger flow to grow by 50 percent.