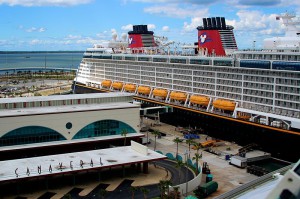 Major expansion works are underway at Port Canaveral. A $587 million development program has been started: the harbor will be widened and deepened and a new terminal and cargo facility will be constructed in order to accommodate more cargo vessels and larger cruise ships. The five-year project is expected to establish the port as an important cargo destination and draw more cruise passengers.
Port Canaveral has currently seven terminals and an eighth terminal is under construction. Both the new terminal and the cargo facility are scheduled to open next year. The long-awaited improvements are funded through state grants and operating profits. The cargo facility includes ship-to-shore cranes with a maximum capacity of 600,000 containers. Last year, Port Canaveral had 21 percent increase in cruise passengers and after the expansion, the port's cruise passenger traffic is expected to increase up to 50 percent. In this way, Port Canaveral prepares to become the world's busiest cruise port, overtaking the port of Miami.
In addition to the port's improvements, a seven-story welcome center was opened in Port Canaveral in November last year. The $21 million,  22,000-square foot, a glass-and-steel structure looks like a cruise ship and features indoor and outdoor observation decks and is meant to offer expansive views of Port Canaveral, the Kennedy Space Center and the Indian River. The welcome center, called Exploration Tower, will be an interactive education center, as well. The port's expansion plans include a number of amenities such as an amphitheater with 3,000 seats, an indoor entertainment venue, a market place, a campground.
Port Canaveral enlargement has a long term vision and the potential to enhance the local economy. It will be creating jobs during the building works and attracting more visitors in years to come and the tourist flow is crucial for the growth of the region's tourism industry. Besides, by increasing the port's cargo capacity, new manufacturing opportunities will be created throughout the area.