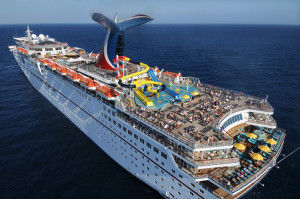 How do you spend your vacation? Going to the seaside? Every year? If you want to be close to the sea but in a different way or just want to explore it more closely and in the meantime have fun I can tell you how – cruising! This is a way for you and your friends and family, together, to have an amazing holiday! Whether you would like to relax in the spa, sunbathe, dance or whatever you think about you will love this way of spending the holiday. One place to start this adventure – Port Canaveral, one way to spend it – one of the Carnival Cruise ships!
The atrium is the place where all the adventures begin – it is the heart of any Carnival ship. There you will find the answers of any question you have, there you can plan what to do at the shore excursion desk no matter what time it is, no matter if it is day or night.
There are plenty of places to visit inside the ship. Like the art gallery – for example. A great collection of fine art is awaiting for you to see it and why not buy some – many of the paintings are available to buy during the art auctions.
If you have a talent different from painting – singing, for example – the karaoke is the place right for you. There you can show your friends what are you capable of and fulfill the dream of being a superstar! No matter the style – be sure that the emcee will have the song you want to sing!
These are the most colorful places to visit but you can also attend the many stage performances, the casino, the spa… And for the kids there are also many places to have fun! Oh, and let's not forget about the Cherry on Top – place to treat yourself to something sweet, where not only the kids but adults will like. There you will find a great gift for someone special. Or for yourself.
Outside there are also many things to be done. Pool and Deck Parties are a bright example. You will always a reason to party on a Carnival cruise! Or the many ways to sport – whether you choose to jog on the ship-top jogging track, or challenge a friend to a Ping-Pong match or to a round at the mini-golf course.
And these are just some of the ways to spend the time on the ship and have an unforgivable vacation. Remember, all this fun starts from Orlando. And if you worry about getting there – a town car can will always be waiting for you at the airport to transport you to the Port Canaveral!