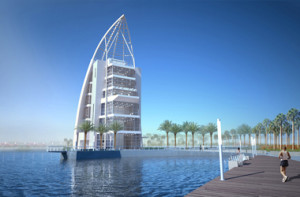 The Port Canaveral Authority announced that the new Dave Nisbet Road realignment will be completed Wednesday evening, allowing the road to be open to the public on Thursday morning, August 22nd, 2013.
The Authority, however, appeals to people with a request to remove all off-premises signs, which were allowed during the recontruction to help visitors and customers better find their way to the Cove and other areas, no later than 5pm on the Wednesday afternoon. Any remaining signs after Wednesday in the right of ways or on the fences will be removed and disposed by the contractor or Port staff.
The Dave Nisbet Road was closed on May 20, 2013, due to the construction of a new state-of-the-art Welcome Center. It will be the centerpiece of an extensive redevelopment of The Cove harborside dining and retail area, as well as a community hub, repository of local history, visitor magnet and gateway to the region's attractions.
The Port Canaveral Welcome Center is just the beginning of an extensive Canaveral Port Authority project to redevelop The Cove harborside marketplace area and bring significant benefits to local businesses and Brevard County's overall economy.