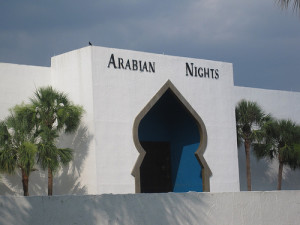 The Arabian Nights dinner attraction announced it will be closed permanently after New Year's Day. This will be the end of the 15-year long history of the dinner show with performing horses and a royal story line. Owner Mark Miller opened the dinner theater's doors on Feb, 29, 1988. Over the years Arabian Nights has presented 10,000 performances for 10 million visitors.
This August the attraction won the 2013 Orlando Sentinel Award for Best Dinner Show. Set in a horseshoe-shaped arena with a dirt floor, the Arabian Nights show spotlights Al-Marah Arabian horses with acrobatic riders. Customers, who pay $66.99 for general admission, eat dinner in stands surrounding the action. The show was freshened with new acts and narrative during the summer and dubbed "The Royal Celebration," a story about a romantic merger of two Bedouin kingdoms. But despite the changes, owner Mark Miller said, the numbers were no longer adding up. Ticket wholesalers, which handle the bulk of Arabian Nights' sales, would no longer pay enough for the blocks of seats they purchased, Miller said.
"It has been an honor sharing my passion for the beauty and magic of horses with people from all walks of life over the last 25 years," said Miller in a release. "Unfortunately, we have reached a point where the marketplace demands a cheaper product than we can provide."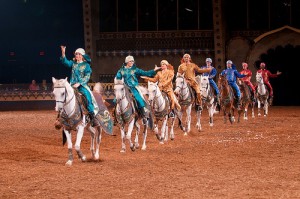 Miller, who grew up in a family that bred Arabian horses, said the company's 40 horses will move to an 80-acre farm he has purchased. He also said he will explore other uses for the Arabian Nights building and will consider selling the land, which is off West U.S. Highway 192.
The Arabian Night Christmas Show will run from 1st to 31 December, giving people one las chance to enjoy the attraction. "We know a lot of Central Florida Residents will want to see the show before we close, and we are offering them half price admission," Miller said.