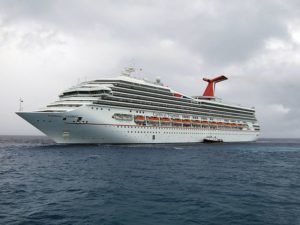 A woman sailing on a cruise from New Orleans has fallen overboard.
A woman has fallen overboard from a Carnival cruise ship into the Gulf of Mexico while sailing from New Orleans.
The incident happened Sunday night while it was on the second day of a five-day cruise sailing toward Cozumel, Mexico.
Carnival Cruise Line spokesman Vance Gulliken said a 44-year-old woman "was seen going overboard" from the Carnival Triumph Sunday night.
The company says that search and rescue operations are underway for the missing woman and the Mexican Navy is in charge of the search.
According to wwltv.com.