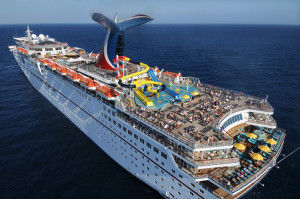 How do you spend your vacation? Going to the seaside? Every year? If you want to be close to the sea but in a different way or just want to explore it more closely and in the meantime have fun I can tell you how – cruising! This is a way for you and your friends and family, together, to have an amazing holiday! Whether you would like to relax in the spa, sunbathe, dance or whatever you think about you will love this way of spending the holiday. One place to start this adventure – Port Canaveral, one way to spend it – one of the Carnival Cruise ships!
The atrium is the place where all the adventures begin – it is the heart of any Carnival ship. There you will find the answers of any question you have, there you can plan what to do at the shore excursion desk no matter what time it is, no matter if it is day or night.
There are plenty of places to visit inside the ship. Like the art gallery – for example. A great collection of fine art is awaiting for you to see it and why not buy some – many of the paintings are available to buy during the art auctions.