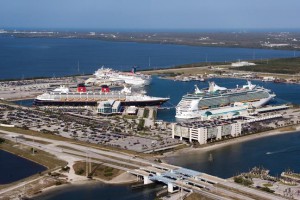 Canaveral Harbor was included in the first draft of the U.S. House Water Resources Development Act (WRDA) based upon its completed and fully approved Section 203 study. Port Canaveral officials will continue to work with leaders in Washington as the bill is debated and eventually approved to assure this essential project secures its authorization. Upon House approval, WRDA will go to the Senate for final approval.
With favorable approval from the Chief of the U.S. Army Corps of Engineers and inclusion in the first draft of the House legislation, which includes language for WRDA bills on a regular basis, widening and deepening of Port Canaveral harbor will begin this fall. Completion of Phase 1 of the project is expected in late 2014.
Port Canaveral's channel will be widened by another 100 feet and deepened an average of 2 feet along the length of the harbor to accommodate larger vessels. With the growth of Port Canaveral's cruise and cargo operations, the improvements will improve navigational and safety margins.
"Already a thriving and growing cruise Port, we rapidly are expanding to become one of Florida's major container ports," said Port CEO John E. Walsh. "Widening and deepening of the Port's harbor is one of the best investments for our state. We already have begun early efforts to continue deepening to eventually get to 50-to 55-feet deep."
Walsh added, "Passage of a WRDA this fall is essential for Port Canaveral, our fellow Florida seaports and critical seaport infrastructure projects nationwide. We need to reinvest in our future."
Canaveral channel improvement costs total $57 million to date, with the Port Authority paying $19.4 million and Florida Department of Transportation paying $37.6 million. As part of overall cargo services expansion, Port Canaveral is constructing two new cargo berths and has purchased two new post-Panamax ship-to-shore cranes.                                  Port Canaveral