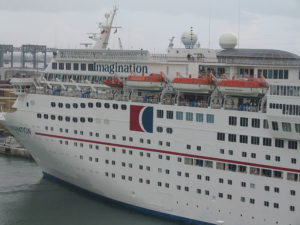 Carnival Cruise Line is bringing its largest ship to Florida's Space Coast.
Officials said Carnival Cruise Line and Canaveral Port Authority have reached an agreement on a new state-of-the-art terminal. The planned facility would be able to accommodate Carnival's new 180,000-ton ship. The vessel will be the largest ever constructed for the line and powered by LNG. It is set to debut in 2020.
According to the Carnival News website, it will offer an array of groundbreaking, never-before-seen features and attractions. In addition, it will be the first cruise ship powered by Liquefied Natural Gas, which is based in Florida. The ship is part of Carnival Corporation's "green cruising" design platform.
The still-unnamed ship will dock at Cruise Terminal 3, which is under construction on the south side of the port, east of the Cove restaurant district and west of Jetty Park.
Carnival Cruise Line announced Tuesday that it reached an agreement with Port Canaveral related to Cruise Terminal 3 to accommodate the new ship. The terms of the agreement were included on the agenda of the Canaveral Port Authority Board of Commissioners meeting on Aug. 29.
According to a press release, the agreement would further bolster the cruise line's position 'as the Port's number one cruise operator.'
According to Cruise Industry News.